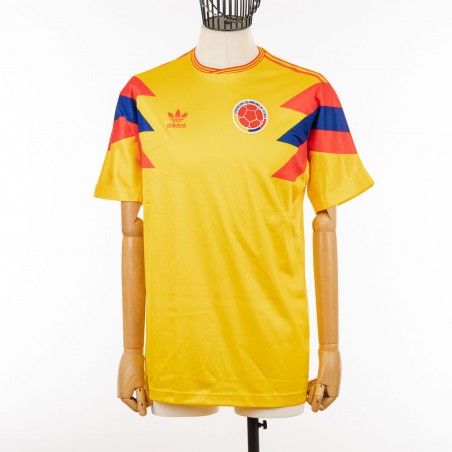 Colombia away jersey with short sleeves and made by the technical sponsor Adidas for the 1989/1990 season. Model in perfect condition, without seams and with vivid colors, not faded. S size
The away jersey of Colombia is yellow with geometric inserts on the sleeves, in red and blue, three red stripes, representing the technical sponsor, on the shoulders and on the V-neckline. The crest of the Colombian football federation is applied on the heart side, while on the right side the Adidas logo, in red. The number 10 can be read on the back, in burnt earth colour.
The Colombian players, nicknamed Cafeteros, won the 2001 Copa America at home, after experiencing a period of great splendor in the 1980s, thanks to the qualities of athletes such as René Higuita, Andrés Escobar, Carlos Valderrama and Faustino Asprilla. In those years it was certainly one of the strongest national teams in South America.