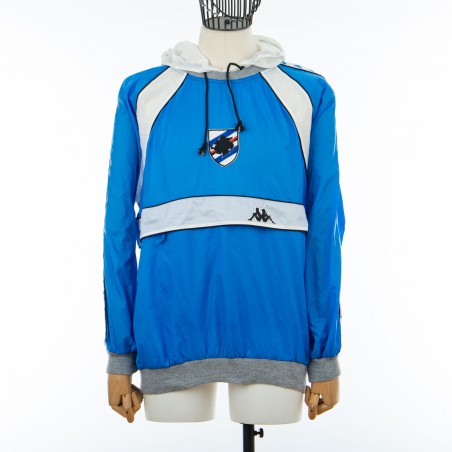 1988/1989 Sampdoria Kappa Jacket. Jacket made by the manufacturer Kappa as technical sponsor for the Sampdoria football club, with commercial sponsor ERG.
The product is clearly visible from the various photos relating to it. The jacket is long-sleeved, predominantly blue, with the presence of beautiful white and black inserts, and gray on the cuffs, collar and bottom of the jacket itself; note the presence of a white hood behind the back adjustable with laces in the collar area; the blue Kappa logo on vertical white bands is printed on the sleeves; on the front of the article we see a horizontal white band on the abdomen and two oblique white bands towards the sides; the club logo is applied in the center, while a little further down, slightly out of the way, there is the black Kappa logo on the abdomen band.
On the back, in addition to the hood, we find the oblique white bands and the horizontal one already seen in the front section of the jacket; moreover, in large dimensions, the white wording of ERG appears.