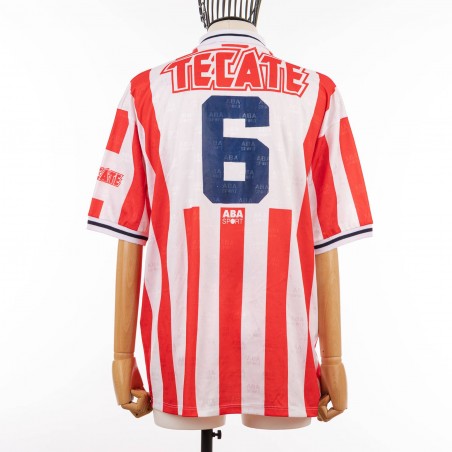 Chivas de Guadalajara match jersey made by the technical sponsor Aba sport for the 1994/1995 season. Personalized model with the number 6 in excellent condition, without defects in the fabric and with vivid colours, without streaks. Size not specified.
The Chivas de Guadalajara jersey has vertical red and white stripes, with the edges of the sleeves and the collar, in the polo model, white, bordered by a thin black stripe. The closure of the neckline is ensured by two small white buttons. The emblem of the sports club is sewn on the heart side, the logo of the technical sponsor Aba sport is legible on the right side and that of the main sponsor Mexlub in the centre. On the back you can see, at the top, the back sponsor Tecate, in the center the number 6, in blue, and again the Aba sport brand.
Club Deportivo Guadalajara is a Mexican sports club, which, together with América, is one of the two clubs never relegated from the top flight. It has won 12 Mexican championships and is the team with the most fans in its country.